1. stitching is fun.
2. i should stitch more.
3. i'm so far removed from the world of stitching that, I don't really know my head from my whatsit.
4. embroidery thread comes in various fibers.
5. if you walk into a quilt shop that has a wool folk art wing, and you ask for "orange thread for topstitching" they're going to give you wool, and wool is not what you need for a cotton quilt.
6. the only way to get perle cotton is to ask for perle cotton.
7. not everyone carries orange perle cotton. at least not in the greater Indianapolis area.
8. if you act like you know what you need, people think you know what you need. therefore, you have less chance of getting what you need.
9. perle cotton comes in various sizes, which are numbered.
10. the smaller the number, the wider the thread.
11. the bulkier the thread, the larger the needle eye.
12. the larger the needle eye, the more difficult said needle is to find.
13. perle 5 is what I bought.
14. For perle 5, the only needle available on the north side of Indianapolis that A) is sharp, and B) has a large enough eye, is
John James # 18 Chenille
.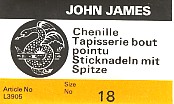 15. I know this, because I have purchased every needle with a smaller eye. And I found this one at my FIFTH stop.
16. I am an excellent backstitcher. See article A.
17. the best part about backstitching is the, um, back.
18. especially when you use perle 5.